The mild buttery and creamy taste of Brie cheese are unforgettable. No wonder this type of cheese is the number one choice for preparing grilled cheese, casseroles, quesadillas, etc., for several people around the globe.
However, you might not always have brie cheese at your disposal. In such situations, you can move ahead with your desired recipes with substitutes like Cambozola, Camembert, Reblochon, etc. These substitutes shall help you recreate the same taste and texture without any major difference.
If that intrigues you, we suggest reading along as we have several other brie cheese substitutes for you. Choose the one that suits your recipe and embrace the cheesy heaven!
13 Best Substitutes For Brie Cheese
For those who want to know which cheese is comparable to brie cheese, here's a list of the best substitutes for brie cheese that you can try now!
1. Cambozola
Cambozola is a German hybrid between gorgonzola, an Italian blue cheese, and a French triple-cream soft cheese. It has a delicate texture similar to Brie but with a more sophisticated, intense flavor, making it an excellent alternative for Brie.
Cambozola has a lovely soft-ripped skin with a moderate flavor and is widely accessible in big supermarkets. It pairs particularly well with fresh fruit and a glass of wine with a bit of acidity to offset the richness of the cheese.
2. Camembert
Next we have on our list is Camembert cheese. It is french specialty cheese and the nearest substitute for brie cheese due to its similar production technique. In the beginning, camembert has a granular texture, but it reaches the same consistency as brie cheese as it ages.
Camembert has the same mild, earthy and rich taste as Brie and complements a wide range of bread, nuts, and fruits. It is better served at room temperature, and just like Brie, it also pairs well with red Beaujolais and Bordeaux.
3. Coulommiers
Coulommiers is another excellent substitute for brie cheese due to traits like taste and consistency. The flavor of ripening coulommiers is characterized as rich and nutty, akin to that of Brie cheese. Like Brie, coulommiers is also a soft, creamy cheese prepared from pasteurized or unpasteurized milk.
The only difference between coulommiers and brie cheese is that the crust on coulommiers is somewhat thicker than on Brie. Aside from that, coulommiers may be used in a variety of cheese recipes or combined with berries, fruits, and baguettes for more assertive flavors.
4. Paglietta
Paglietta is a soft Italian cheese comparable to Brie. Despite the fact that it is not widely accessible in many locations, it is a part of this list because it has a fruity and nutty flavor and a melty texture close to brie cheese. This cheese is available in three varieties at cheese shops: cremino, semi-fat, and full fat.
This cheese's texture varies with age, becoming slightly runny and moist.
This cheese can be served as a table cheese with fruits, crackers, or a bottle of wine.
5. Reblochon
Another type of French cheese that works well as a replacement for the nutty flavor of Brie is reblochon. This cheese is easily identified by its yellow to orange peel. Aside from that, they share other characteristics such as a delicate and creamy texture, a powerful scent, and flavor.
Because it has a similar texture to brie cheese, you can use it in any of the brie cheese recipes and match it with a variety of fruity-flavored wines and enjoy its unique and delectable taste.
6. Chevre cheese
Chevre cheese, often called goat cheese, is a good substitute for Brie. It has a soft, silky, and creamy texture in its early phases, but it becomes crumbly and firm as it ages. It has a tangy, silky, and velvety flavor with an earthy undertone.
This cheese has the same properties as Brie cheese but with more fatty acids and less protein. It is commonly served with crackers and fruits, but you should minimize its content because it has a strongly acidic medium.
7. Cantal cheese
Cantal cheese is a semi-hard French cheese that may be used in place of Brie. Based on its maturity, it is available in three versions: Cantal Jeune, Cantal Entre-Deux, and Cantal Well-Aged. The smooth and creamy texture of Cantal Jeune cheese is comparable to that of Brie. The other aged types, on the other hand, are more crumbly.
Cantal has a wide range of tastes, from milky, fruity, and earthy to mildly sweet. Therefore it goes well with bread, fruits, and wine and can be used in soups or salads.
8. Explorateur cheese
Explorateur cheese is ideal for individuals searching for a creamier alternative to brie cheese. Regardless of the fact that it is not a popular cheese and is not generally accessible in many cheese shops, it is worth considering because of its rich, distinct, and buttery flavor. Texture-wise, Explora cheese is quite similar to brie cheese as they both have a soft texture.
Explorateur cheese has a slightly salty and sour taste, so pair it with red wine, a French baguette, or fruits.
9. Mozzarella cheese
Out of all the brie cheese substitutes, Mozzarella cheese is the most readily available cheese. It's delicious, with a light and sweet flavor with a fruity undertone. It is accessible in a variety of flavors and textures, making it appropriate for all of your brie cheese recipes.
Mozzarella is available in a soft cheese form and a hard block of cheese. As a result, you may simply swap Brie for Mozzarella in crackers and fruits. However, make sure that you use the softer version of mozzarella if you are going to use it as a brie substitute.
10. Fromage D'affinois
Many people prefer Fromage D'affinois to Brie cheese because of its delicate, creamy, and silky feel. It has a sweet and earthy flavor, and when it comes to consistency, it is a bit runny, just like brie cheese. With a unique taste profile and excellent flavor, Fromage D'affinois stands out among the best brie substitutes.
It has a similar consistency and taste to brie cheese; it matches well with fig spread to replace Brie on bread, fruits, and wine.
11. Fontina
You can use Fontina as a substitute for brie cheese in desserts. Its nutty, velvety, buttery, and sweetness complements desserts perfectly.
Fontina is commonly available in many places, making it a reasonably accessible replacement.
However, the texture of this cheese is a little harder than that of Brie.
As a result, it may be melted in meals or served as a table cheese with fruits as a dessert.
12. Toma Cheese
Toma is a Semi-hard Italian soft cheese with a creamy and smooth texture like Brie. It has excellent melting qualities and is predominantly produced in Northwestern Italy's Aosta Valley and Piedmont areas. It is exclusively made from cow milk and has a tinge of nutty and earthy flavors, making it an equal substitute for brie cheese.
The only difference between Brie and Toma cheese is that it is a bit harder in texture, but that wouldn't make much difference when you use it as a substitute for Brie in soups, fruits, pasta, burger, or pair it with wine.
13. Saint-Andre cheese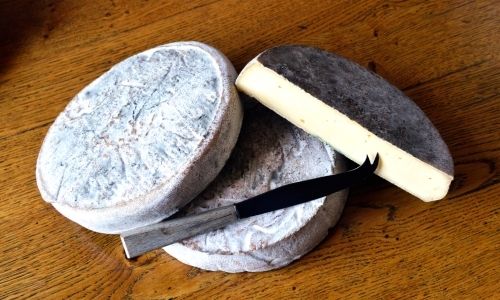 Saint Andre is the most well-known triple crème cheese globally, having a creamy, delicate, and buttery texture. It's a fantastic brie alternative since it has a somewhat salty flavor with a sour undertone.
It is made from cow milk and is delicious spread over toast and crackers.
Aside from that, you may eat it with crispy bread and fresh fruits or enjoy it with champagne.
How to Store Brie Cheese? 
If you want to avoid using any Brie cheese substitutes in the future, you can buy them in substantial quantities and store them. The following tips can help you keep your Brie cheese fresh for a long period:
Store your brie cheese in the vegetable compartment and ensure that the temperature is at 38 to 45 degrees.
Remove the supermarket wrapper and wrap it with parchment paper. A wax paper will also work.
Seal it shut with a tap to retain the freshness and aroma.
FAQs for Brie cheese substitutes
Is Brie a cream cheese substitute?
Brie is a sort of double cream cheese, for starters. Brie's butterfat level ranges from 60 to 75 percent. Camembert is created using the same recipe and procedures as Brie, but the name refers to the hamlet of Camembert in Normandy and its terroir.
What Is The Best Way To Store Brie Cheese?
To keep the flavor of Brie cheese from changing, wrap it loosely in wax paper or store it in a sealed container. Then, to keep it fresh, put it in the refrigerator for a few days.
What is the flavor of Brie cheese?
Brie cheese taste like camembert and Explorateur cheese, which have an earthy and slightly nutty flavor.
Conclusion
Brie cheese is extremely popular owing to its exquisite flavor and beautiful texture. It is also frequently accessible, but you run out of brie cheese in your refrigerator or just want to try out new recipes in the worst-case situation. You now know how and with what- you can substitute brie cheese.
Many recipes call for brie cheese, but you may use our list of substitutes to find the perfect match for your meals.
I have been cooking for over forty years. I understand the importance of quality ingredients and how to incorporate them.